Just bought your Renault Clio 172/182 and not sure where to start with mods? Today, we'll be running through our list of community-recommended modifications suited to all budgets, helping you gain performance both on the street and on the track.
Engine
The good news is that the Clio F7R Engine is a fantastic power unit out of the box.
Unfortunately, there are few budget-friendly Clio 182 mods that will drive meaningful performance improvements, but some marginal gains can be found for below £200 that are well worth doing as a beginner.
A performance induction kit will help your engine breathe more easily, creating more power thanks to the reduced resistance in the power cycle.
K-Tec Racing's induction kit is loved by the Clio community, becoming a virtually universal option for all modders thanks to its great performance, easy installation and very reasonable pricing at £160. K-Tec as a company has a superb reputation in the UK and we can personally vouch for their products and service.
For the Clio enthusiast looking to spend a little more time and money, increased power gains can be found through both hardware and software improvements.
On the software front, a quality engine remap from a reputable garage will do wonders for the performance of the Clio 182 engine. Do your research and find a well reviewed garage near you, and never be afraid to ask the community on Facebook or cliosport.net to see if anyone has previous experience. Also, beware of tuners that claim 10+ BHP improvements simply from a remap, this is impossible and garages such as these are best to be avoided. You should expect to spend between £200 to £450 for a good quality map.
On the more expensive side, uprated cams with altered profiles can be installed in the engine to improve the dynamics across all rev ranges.
These gains don't come cheap however, and you can expect to pay upwards of £700 without installation for a reputable set of performance cams, like these from KamRacing.
Suspension
The cup-packed Clio 182 comes loaded with a great platform for handling out of the box, but there are some options available for those who want to improve their handling without breaking the bank.
Coilovers are the preferred option, enabling you to dial in your ride height and even compression/rebound rates in more advanced offerings, but are often on the more expensive side. We recommend either BC Racing's Clio coilovers or K-Tec Racing's 2RS Coilover Kit.
Brand
BC Racing
K-Tec
Features
Fully Adjustable
Bottom Mount Height Adjuster
Camber Adjustable
Pillowball Upper Mount
2 Year Warranty
Camber Adjustment
C-Spanners included
Adjustable Ride Height
Price
£901.55
£358.80
Alternatively, a lowering spring kit is a much cheaper and easier to install option, that will lower the ride height of your car and marginally improve the stiffness, giving you more responsive handling and less body roll around corners.
We recommend the Cooksport Clio 182 Lowering Springs. They have fantastic reviews in the community and in Clio forums, and can be purchased for around £120.
Weight
At the end of the day, there's no avoiding the fact that weight is a component of overall speed. There are a multitude of options that can save you weight ranging from absolutely free to ludicrously expensive, but we've cherry-picked some options that are suitable for all budgets.
Removing the rear bench seat is a great (and free) way to save a large amount of weight fairly quickly. The job can be done in 5 minutes and save you kilograms of overall weight, and help to bring the center of mass of the car further towards the floor, where it belongs.
If you decide to go for this option, there are rear seat delete kits available on the market to tidy up the rear of your car. These days, options for the older Clio models (172/182) are becoming increasingly rare but there are some to be found if you're persistent, like this kit we found on eBay for £220.
Seats are another great way to save weight and improve performance and overall driving feel, and can be done as cheaply or expensively as you'd like.
As with most interior parts, always check the second-hand market before buying from a retailer. Forums, cliosport.net and Facebook are fantastic resources that could save you hundreds of pounds on a used set of front seats.
For everyday comfort with a performance feel, Recaro Evo 6 Trendline seats are a community favorite, and can be picked up second hand for around £400 a pair.
Alternatively, we'd recommend getting hold of a pair of Clio 197 Recaro Sportster seats, which will fit into a Clio 182 provided that you also purchase a set of Clio 182 Recaro subframes.
Prices for these vary significantly, but as always, check Clio forums and social media pages to see if there are any other members selling and you'll likely get yourself a deal.
Exhaust
Last but by no means least in our list of Clio 182 Mods, exhaust upgrades can make a huge difference to the feel, performance and sound of your engine, and is one of the best bang-for-buck performance upgrades you can make.
However, there are a few options to consider here. A Straight-through stainless steel exhaust system is the ideal upgrade, removing all obstructions from the exhaust path and allowing the engine to evacuate gasses as easily as possible, and will completely transform performance and engine sound.
This doesn't come lightly however. Removing the catalytic converter and running a straight-through exhaust system means you'll need to find a 'Modified Car Friendly' Garage that is willing to MOT your Clio for you, as you won't pass an MOT emissions check with a decat system.
This will also expose you an increased risk of attention from the authorities. Due to the increased noise, you will draw attention to yourself from everyone on the road, including the Police. ALWAYS ensure you have declared any modifications to your insurance company and be aware of your surroundings when you're driving fast on British roads.
An alternative option is a cat-back exhaust, which simply replaces the rear section of the exhaust system with an aftermarket, usually stainless steel back box and exhaust pipes, and will make your car sound great, and allow you to have shiny steel exhaust tips sticking out from under your rear bumper.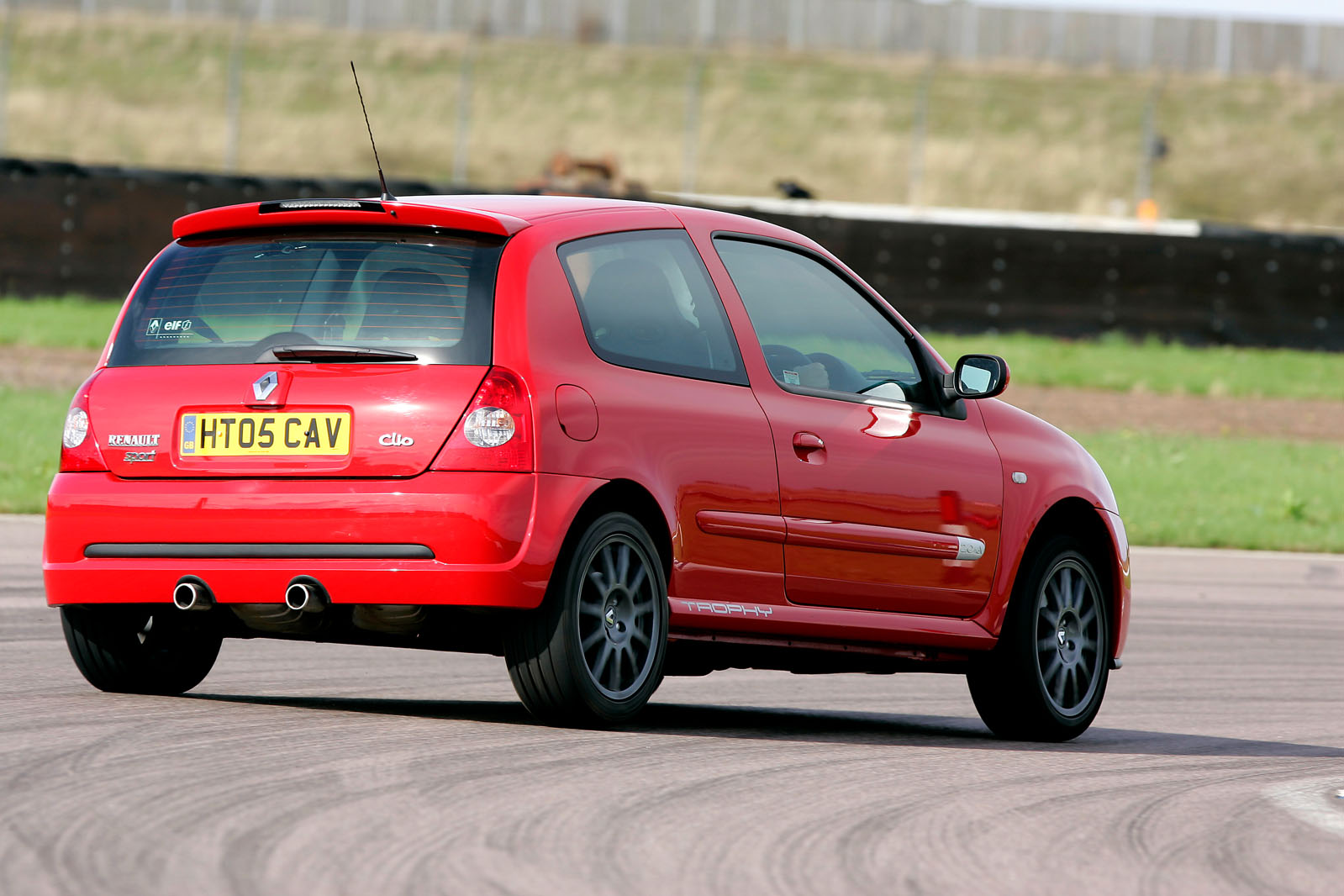 Here, we recommend the K-Tec Racing Clio 182 Catback Exhaust System.
The exhaust comes well recommended by the community, from a reputable and well-reviewed company in Clio Sport circles, K-Tec. The system comes with a few options that will allow you to suit your exhaust note to your personal taste in noise and sound, and can be easily installed roadside in an afternoon, with prices starting at around £430.
Additionally, the K-Tec Decat Pipe will allow you to remove your catalytic converter if you wish, and run a straight-pipe system if you're happy with the additional noise and Police attention this will draw.
Final Say
Based on what we've outlined above, here's the Clio 182 Mods we'd recommend for each price bracket:
| | | |
| --- | --- | --- |
| ~£500 | £1000 | £1500+ |
| Rear Seat Delete – £0 | Rear Seat Delete – £0 | Rear Seat Delete – £0 |
| Induction Kit – £160 | Induction Kit – £160 | Induction Kit – £160 |
| Cat-Back Exhaust – £430 | Cat-Back Exhaust – £430 | Cat-Back Exhaust – £430 |
| | Remap – £400 | Remap – £400 |
| | | Performance Cams – £750 |
Obviously, this is all assuming that the basics are in order. That's brakes, tyres, belts and other perishables that should ALWAYS be prioritized before you start modding, but once you do you'll realise that there's a world of Clio182 Mods out there, and we hope we've given you a decent place to start on your journey!